What is Teacher-Student.com
Teacher-Student.com is an English learner/native English teacher matching website.
Teacher-Student.com provides very detailed personal profiles of all its native English teachers in order to offer potential students a wide variety of styles, materials and methods from which to choose and the convenience of selecting lessons especially suited to their individual needs.
Top 100 stations most often searched.
(Updated: December 8, 2023)
Akabane
Akasaka
Akihabara
Aoyama-itchome
Atsugi
Ayase
Azabu-juban
Azamino
Chiba
Den-en-chofu
Ebisu
Fujisawa
Funabashi
Futako-tamagawa
Gaien-mae
Ginza
Gotanda
Hamamatsucho
Hanzomon
Harajuku
Hatagaya
Hatchobori
Hatsudai
Hibiya
Higashi-kitazawa
Higashi-shinjuku
Hiro-o
Hiyoshi
Ichigaya
Iidabashi
Ikebukuro
Ikejiri-ohashi
Jiyugaoka
Kamata
Kanda
Kasumigaseki
Kawasaki
Kayabacho
Kichijoji
Kikuna
Kinshicho
Koenji
Kokkai-gijidomae
Kokubunji
Korakuen
Kudanshita
Machida
Meguro
Meidaimae
Meijijingumae
Mejiro
Musashi-kosugi
Musashi-sakai
Nagatacho
Naka-meguro
Nakai
Nakano
Nerima
Nishi-koyama
Nishi-nippori
Noborito
Nogizaka
Ochanomizu
Ofuna
Ogikubo
Omote-sando
Ookayama
Osaki
Otemachi
Otsuka
Roppongi
Roppongi-itchome
Sangen-jaya
Sasazuka
Sendagaya
Shibuya
Shimbashi
Shimo-kitazawa
Shin-maruko
Shin-okubo
Shinagawa
Shinanomachi
Shinjuku
Shinjuku-gyoenmae
Shinjuku-sanchome
Suidobashi
Tabata
Takadanobaba
Tameike-sanno
Tokyo
Toranomon
Ueno
Yokohama
Yotsuya
Yotsuya-sanchome
Yoyogi
Yoyogi-hachiman
Yoyogi-koen
Yoyogi-uehara
Yurakucho
(Updated:2023-12-08)
Win-Win situation
After the free registration process, teachers can dispense with the tasks of seeking out new students, posting want ads, and negotiating lesson fees. Also, upon registration teachers will be able to select the kinds of students they prefer to teach(i.e. adults and/or children, men and/or women) and the locations of their lessons. In addition, teachers may change their schedules anytime without prior notice.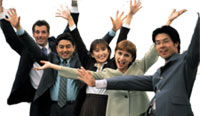 Compared with the EIKAIWA Schools, teachers will be given shorter contracts and much more freedom to excercise their own styles and techniques. Teacher-Student.com does not receive a percentage of your lesson fee. All company revenue is gained from the student introductory fee. Therefore, teachers can maximize their income and, after setting their initial registration cost, students only pay their teachers directly.
Matching System
Teacher registers by completing online application form and personal profile.
Teacher sends documents backing up credentials cited in the personal profile/application form by email or mail to the Teacher-Student office.
Teacher-Student processes registration, makes the teacher's profile available to potential students online, then activates teacher password to edit it.
Potential student chooses teacher online and requests a trial lesson. If the student can not find an instructor who meets their needs, he or she simply leaves it up to us.
Teacher-Student contacts the teacher about the potential student and arranges an introductory meeting. Afterward, the teacher, student and an English-speaking Teacher-Student representative meet. Using his or her own materials, the instructor conducts a 15-20 minute free trial lesson. Therefore, it is necessary to have chosen a textbook deemed suitable for the student beforehand. If the student selects you as his or her teacher, and the textbook was found to be unsuitable, please choose a more appropriate one before lessons commence.
Following the trial lesson, the Teacher-Student representatives will advise the student on home study. (All Teacher-Student instructors are qualified language instructors)

After the 3-day period, if both the teacher and student agree, Teacher-Student will schedule the first lesson. During this time, Teacher-Student will ensure that both parties' contact information is exchanged.

Lessons commence soon afterward. Teachers fee will be paid directly by the student following each lesson.
Dispatch System
We have two systems available to meet the needs of our students. The first is the Matching System, in which students choose a teacher based on the teacher's posted profile. We also offer students our Dispatch System. The Dispatch System is for students who have a particular purpose for studying English, such as preparing for business trips or examinations, or for employees who are required by their companies to take lessons at their workplace. As part of the Dispatch System, Access Japanese chooses the teacher best suited to the students' requirements.
Here is how the Dispatch System differs from the Matching System:
1. Teachers are paid for trial lessons given as part of the Dispatch System. Also, a transportation fee will be paid in addition to the hourly rate.
2. Teacher Terms and Conditions are established by contract before Dispatch System lessons start. A contract term of 3 months is required for each student or class. If the teacher cannot continue to teach due to unavoidable reasons, the teacher must let students and Access Japanese know at least 3 weeks in advance.
3. The Dispatch System offers a higher wage than the Matching System, but 5% income tax is deducted from the lesson fee prior to teacher payment.
4. Lesson fee and transportation costs will be transferred from Access Japanese to teacher's bank account each month.
5. The teacher must submit an online lesson record after each lesson. If you check the appropriate box on the teacher application form ( I am interested in the Dispatch System), we will contact you for an interview. After your successful interview, Access Japanese will notify you of teaching opportunities we think will be a good fit for you based on student requests.